The Gandhi Mahal Interfaith Garden is a collaborative project with Minnesota Interfaith Power & Light(MNIPL), Gandhi Mahal Restaurant, All Saints Episcopal Indian Mission, and New City Church.
Gandhi Mahal started this backyard garden in 2012 as a pilot project with HECUA, providing local, sustainably-grown food for the restaurant. The garden is a part of a bigger network of farms and of the economic system of Gandhi Mahal, showcasing their commitment to building sustainable communities and increasing the food security of our neighborhoods. Check out what Gandhi Mahal has done over the years!
This year MNIPL is leading this collaborative urban farm program to explore the connections between food, faith, and climate change. They are growing crops that become an assortment of traditional Bangladeshi/Indian dishes at Gandhi Mahal, as well as supply the healthy, traditional indigenous ingredients for free community meals prepared at First Nations Kitchen every Sunday night, a ministry of All Saints Episcopal Indian Mission.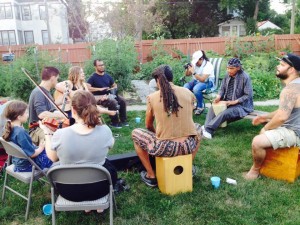 Open Garden Nights were every Sunday throughout the summer. The garden serves as a radically welcoming, open space for folks from community dinner at First Nations Kitchen and neighbors to spend time at the garden.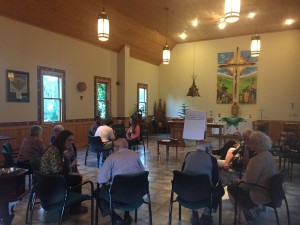 In June they hosted an incredible Interfaith Climate Conversation, making the connection between climate change and agriculture through their Climate Conversations model, participants spoke from Muslim, Baha'i, Christian faith backgrounds about their connection to food. This event fell during Ramadan, so afterward everyone shared in a community Iftar to break fast together, hosted at Gandhi Mahal.